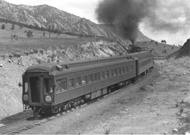 Exposition Flyer's first ascent of the Rockies,
June 11, 1939.
Richard H. Kindig Photo
James L. Ehernberger Collection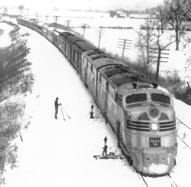 Exposition Flyer ascends West Burlington, IA Hill in March, 1940.
Hank Kuepper Photo
David Lotz Collection
THE EXPOSITION FLYER
Inaugurated on June 10th, 1939, the new Chicago to San Francisco Exposition Flyer was intended to be a temporary train to cater to tourists visiting the Golden Gate International Exposition, however lasted until the inauguration of the California Zephyr in 1949. The lavish fair, located on the man-made Treasure Island in San Francisco Bay drew enough passenger trade for the CB&Q-D&RGW-WP combined train that it became credible competition for the Union Pacific-Southern Pacific Overland Route. This was the first through train over the combined route, made possible by the Rio Grande's Dotsero Cutoff which saved 150-miles over a circuitous route through the Royal Gorge. Many regard the Exposition Flyer as the train that inspired the famous California Zephyr. In fact, starting in 1948, when the new CZ cars were delivered, they were first used on the Exposition Flyer.
The train's original consist provided a variety of accommodations: Pullmans (some coast-to-coast), tourist sleepers, reclining chair cars, a diner and a fine observation-lounge car for Pullman passengers. Even pre-war Budd stainless steel equipment made appearances on the Expo. However, we've decided to do this train as an all-heavyweight train and do the pre-war Budd cars in a later project. We are producing a basic eight-car set with equipment that was utilized throughout it's career, but with the Pullman 10-section lounge/observation that was used during the war years. We are then offering add-on sets to allow you to choose the diner and observation cars for your favorite railroad as well as additional standard Pullman cars that were used on the Expo.
While we have already selected the cars we are offering, we still invite you to provide input via email into the motive power you would like to see us do.
The Exposition Flyer was a train of leisurely grace, was full of amenities and capitalized above all else on scenery. Railway Classics is proud to produce this classic train in HO scale for the discriminating modeler and collector.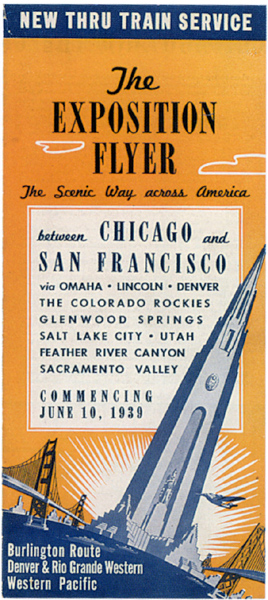 Exposition Flyer Brochure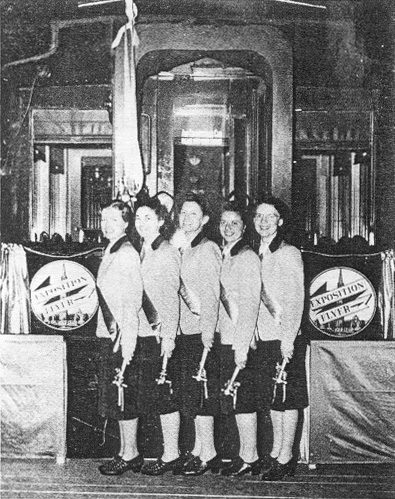 Exposition Flyer christening by Misses Treasure Island, Feather River Canyon, Salt Lake City, Denver and Chicago - CB&Q Photo