Mini-Streamliner Series - The Silver Streak Zephyr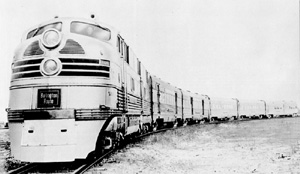 CB&Q "Silver Streak Zephyr" CB&Q Photograph
Builder: To be determined
Factory finished only - with Ajin's Pressed fluting, painted interiors window glazing, Kadee® couplers installed.
The Silver Streak Zephyr, the second non-articulated Zephyr, was the last Zephyr to be built as a whole train, complete with locomotive, for specific service. Placed into service after March of 1940, this Kansas City - Omaha - Lincoln, NE train operated until 1959, but not with all of the original equipment. The Silver Streak Zephyr represented the first step in the evolutionary process that led to the longer, heavier and much finer Zephyrs following WWII. We are pleased to offer this train as a 5-car set, with the original E5 locomotive No. 9909 lettered for Silver Streak service available separately, as well as its replacement, the last CB&Q Shovelnose No. 9908 also lettered for the Silver Streak.
Code
Description
Status

Retail

SSZ
CB&Q Silver Streak Zephyr 5-car set includes:
Baggage Car #900
Baggage/RPO #1600
52 Seat Chair Car #4703
52 Seat Chair Car #4704
Dining-Parlor-Observation #300

E5 Locomotive No. 9909 as delivered and EMC Shovelnose No. 9908 lettered for the Silver Streak Zephyr are also available to reserve separately. Click here for details.
On Hold
TBD
See your dealer to reserve yours now!
Copyright © 2004-2010 Railway Classics. All rights reserved.
Revised: December 16, 2009 .
Railway Classics sets the standard for accuracy, innovation and detailÓ.